Weathering with Rustall
by Brett T. Green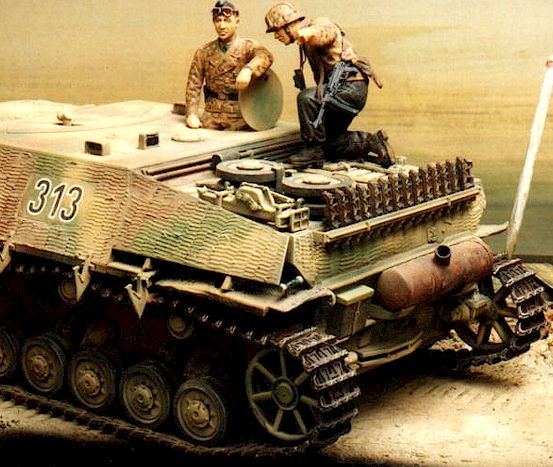 Rustall Applied to Muffler and Tracks of
DML/Dragon Jagdpanzer IV L/48

Its amazing how a small finishing detail can transform a model. An exhaust stain on a fuselage side, a bright highlight on a worn track tread or a dark wash along a panel line can be the difference between a good looking kit and a great looking kit.
Rustall is a product that can deliver particularly authentic finishing touches.
Rustall is a thin, red liquid that may be brush painted over painted or unpainted surfaces. When dry, Rustall conveys a randomly realistic impression of rust. The rust effect can be emphasised by adding more coats of Rustall after the first coat is dry.
In addition to the rusting agent, Rustall contains three more products in the package. There is a very fine ground "dirt" coloured powder (which is, in fact, very specifically sifted clay silt from the hills of Mendocino County California), a thin black wash and a clear acrylic flat coat.
Although I haven't used the clear coat, "Captain Rustall" (the only name I know him by...) tells me Rustall's "No.3 Deadflat" produces subtle variations of flat ideal for uniforms and armour.
I regularly use Rustall for exhausts, mufflers, tank tracks and narrow rusty streaks down the sides of AFVs. I have compiled a short list of general hints which may help you get the most out of this very useful weathering agent:
Rustall has a dark deposit at the bottom of the bottle. It is important to shake the bottle thoroughly before use. I usually pour a small amount of freshly shaken Rustall into the lid - using the lid as my palette.
The key to a successful Rustall finish is to apply multiple thin coats with a soft brush. NEVER use Rustall in a airbrush!
In general, the more layers of Rustall that are applied, the lighter and more random the rust finish. However, think carefully about how corroded an operational tank track or muffler may get - don't overdo it!
It is safest to use Rustall over enamel paints. It may strip off acrylic paints if applied in a heavy-handed manner (although I regularly use Rustall carefully over acrylics with good results).
The final rust effect will vary depending on the base-coat colour. In the vehicle of the title photo, I sprayed the muffler and tracks black (see image below). I applied two coats of Rustall to the tracks, and quite a few more coats to the muffler. I then highlighted worn areas of the track with Humbrol Metalizer and a 2B pencil.

| | |
| --- | --- |
| | |
| Step 1: Paint Areas for Rusting Black | Step 2: Apply Layers of Rustall |
In the photograph below, the base colour was brown colour while panel lines and hatches were sprayed with a wide, uneven coat of black. Acrylic paints were used for the base colours. Two coats of Rustall results in a striking effect.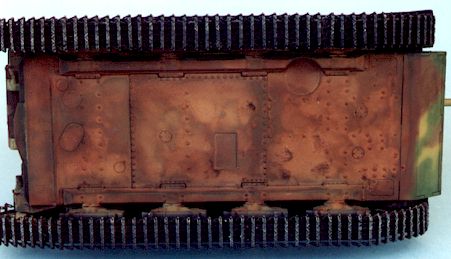 Although the above techniques are the traditional uses for Rustall, it is possible to get more creative. "Captain Rustall" from Kuras Design Group also suggested a few techniques which I have added to one of my own:

Weathering a Burnt-Out Hulk

First apply a few coats of Rustall until the hulk has an overall rusty look. Sprinkle some baking soda on your final coat of RUSTALL while it's still wet.

Days later, the baking soda will start to leach out and you will have the look of heat stress on burnt metal. Great for wrecks on sides of roads.


Dusting Up a Vehicle

Sprinkle "No.4 Dust" over your finished model. Give it a good water soak with a spray bottle and let dry. The dust will collect as silt in most flat areas.


Mud

I like to add "structural mud" to a vehicle before painting. I find this gives me more control over the painting and weathering process, resulting in realistic colour and texture.

Before painting the model, mix some liquid polystyrene cement with a quantity of putty and mix. The consistency should not be too stiff - a thick liquid goo is the aim. Add static grass and a generous amount of "No. 4 Dust" to this mixture and stir.

While the mix is still wet, trowel it onto the lower part of the vehicle - hull, wheels, tracks, and suspension - in thin layers. When thoroughly dry, you can paint the camouflage then the "mud" colour over the appropriate sections of the model. Washes and drybrushing may be applied according to taste.
Rustall should be available from most good hobby stores or mail-order outlets. It will cost around US$5.95 per bottle, or US$14.95 for the full set of four weathering agents. Used properly, one bottle of Rustall will last for a very, very long time. I'm still on my first bottle after at least four years.
You can visit Rustall's web page at http://www.rustall.com
---
Full construction reviews of the models featured on this page may be seen elsewhere on HyperScale. The models are the DML/Dragon Jagdpanzer IV L/48 and the Tamiya Sturmgeschutz IIIG
---
Review and Images Copyright © 1998 by Brett Green
Page Created 13 June, 1998.
Last updated 09 May, 2002.
Back to HyperScale Main Page
Back to Reference Index